Learn about the coffee culture and the art of chilling. Vibrant bars, nightclubs, festivals, and live events. Shopping, sports, and recreation as well as volunteering and activism options in Herzegovina. The city of Mostar is the centre of Herzegovina urban life but you can find attractive options in almost all Herzegovina towns. 
Coffee culture is very strong in Herzegovina. Enjoying the perfect cup of coffee in a cozy café. Chilling and spending time with friends in an easy mode. Having the best conversations in a nice secluded bar. 
Coffee is a social lubricant. When someone invites you for a cup of coffee, they are asking you to hang out and talk. Coffee means conversation, chilling and meditation in Herzegovina. Locals all have their favorite spots where they enjoy coffee the way they like it and spend time with people. Coffee time in locals homes is also considered to be time of pleasant conversation or chilling.   
A strong coffee culture made Herzegovina a region full of café's with fantastic settings, which often offer supreme coffee brands.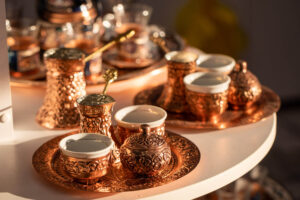 Herzegovina has a very wide selection of vibrant bars, clubs and night clubs and a very high number of those per capita. Why? Locals know how to enjoy themselves and how to party.
In Mostar, as well as the other Herzegovina towns, you will find clubs and bars fit for every taste. Weekends are perfect for live music events and mini club concerts in Herzegovina, as well as a go out in a night club.
Regional music stars and celebrities regularly come to clubs in Herzegovina to perform. A vivid music community, as well as a wide range of bands from the Mostar Rock school make a strong indie music scene. You can often enjoy their performances in different clubs and bars. 
Techno scene is also very present in Herzegovina and a myriad of local DJ-s hold residencies or perform in different clubs.       
Besides the weekends, popular days for an evening out are Wednesday and Thursday.  Most of the clubs and bars are open until 01 AM, while night clubs provide entertainment until 03AM. 
In Herzegovina, and especially the city of Mostar, you can buy everything you need. Ranging from food and house supplies over electronics and clothes to little things like comics and even used items. 
Most of the shopping is done in major shopping malls full like Mepas Mall or Plaza shopping center as well as smaller ones like Piramida shopping center in Mostar. Those are the places where most of the locals do their shopping. 
Other major shopping places are market and hypermarkets chains like Bingo and Namex where you can find most of the every-day supplies.  
There are two green markets in the centre of Mostar. One green market is situated next to Mepas Mall and the other very close to the Old town. 
When you need tech, you will find numerous tech shops like Genelec and TehnoStar in Mostar. In case your mobile phone or laptop need repair, you will find a number of mobile phone stores and informatics equipment stores like PC center that also do repairs. 
Ranging from flee markets and hobby craft supply stores to comic book stores, in Herzegovina you will find everything you need. 
Herzegovina people are into sports. Soccer, basketball, handball, tennis and gym are some of the most popular choices. Open-air public sports courts are widely available in Mostar in different town locations. Courts are usually multi-functional and can be used for several sports. People come to play in groups or individually or form ad hoc teams from those available to play.
Soccer halls, earth tennis courts have available time slots for groups of recreational players. Even school sports halls can usually be rented out after school hours.
Mostar has a very nice trim trail, perfect for the morning jogging in the nature with old pines and a nearby local river Radobolja.
Gym culture is very popular in Herzegovina. A lot of local people works out to stay fit and shape their bodies. You will find a multitude of gyms with very good, often state of the art equipment.
Vibrant social scene in Herzegovina offers a variety of options to spend your days and especially evenings/nights. 
Ranging from music concerts, smaller live music events, pub quiz nights, over theatre shows and poetry readings to expat meetups and festivals. And Herzegovina has a lot of festivals! Mostar Summer Fest, Street Art Fest, Open City Fest and many other music, as well as cultural, arts & educational festivals take place each year in Herzegovina.  
You can also attend some of the numerous workshops as well as fun educational programs that numerous NGOs in Herzegovina offer. One of those is Mostar Rock School, a place to learn how to play music and possibly enter a band. 
Giving back to the community is important for locals. Numerous NGOs and organisations help different categories in need, care for animals and the environment. A helping hand is always welcome. If you feel you can contribute to some of the local causes, reach out and be actively engaged in the community. 
You won't have problems finding an organisation engaged in your field of interest. However, here are several examples of associations that you can become a part of and offer some of your time for the good of the community. 
Besides these organisations, you will easily find a wide range of NGOs tackling different social issues, ranging from environment to social activism.