Locals love to spend time in nature. Why? Because Herzegovina has a lot of it, diverse, preserved, and pure. In this small region, you will find it all – beautiful rivers and lakes, mystic caves, mountains, and hills as well as the dreamy Adriatic Sea.
Herzegovina is a region full of beautiful hills with rocky terrain as well as those full of forests and meadows. Tall and majestic, Herzegovina mountains Čvrsnica, Prenj, Čabulja i Velež, a part of the Central Dinarides, are areas of undisturbed nature and vivid flora and fauna.The highest peak of Herzegovina is on the Velež mountain which stands 1,969 meters high.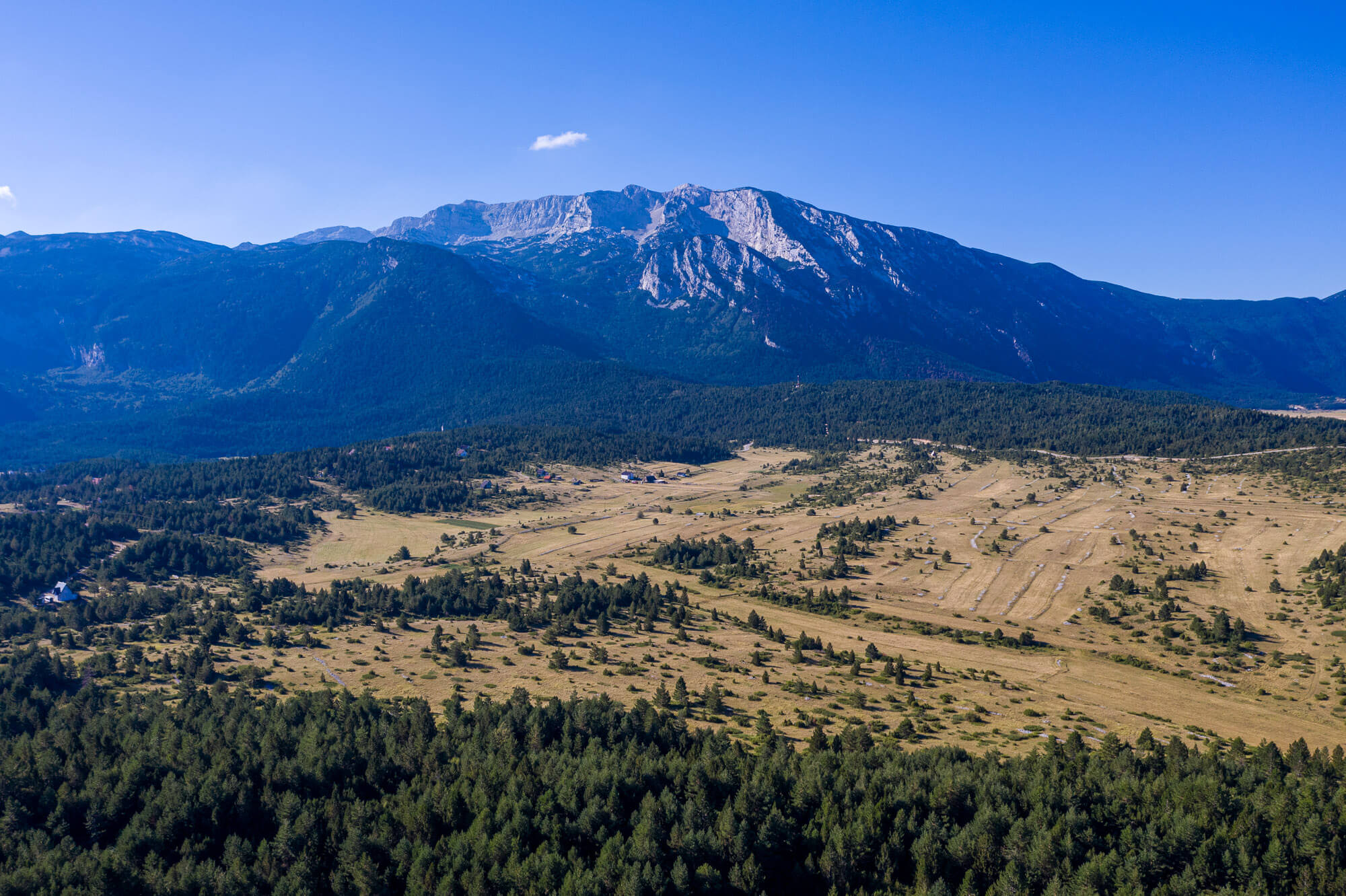 PERFECT FOR
hiking & adventure
Mountains and hills in Herzegovina are fantastic locations for adventure activities. Numerous mountaineering and hiking tracks, skiing and snowboarding resorts as well as rock climbing locations are available for your exploration. Herzegovina hills and mountains are also a part of the Via Dinarica trail.
Perfect for hiking, climbing and enjoying numerous rural households. Full of life, birds and animals, clear streams, diverse plants, dense forests, vivid colors, different kinds of mushrooms and aromatic herbs.  
All of the mountain and hill locations are easily reachable from Mostar. Only 9 kilometers from the town, stands a beautiful hill village Goranci. 700 meters above sea level, famous for clear air, beautiful countryside, fantastic local food and a pack of wild horses that roams around freely and welcomes food from passengers.
You can also reach the closest mountain and ski resort (1052 meters above sea level) with amazing pine forests called Rujište, which is only 25 kilometers away from Mostar. 
The nature park Blidinje, an oasis of beautiful untouched nature with great diversity of local flora and fauna, packed with sights to see and marvelous open spaces is only 71 kilometers away.
Herzegovina has beautiful natural and artificial lakes perfect for enjoying undisturbed nature, walks, hikes, fishing, and sports activities. All of the Herzegovina lakes are within a short drive from Mostar and offer a variety of ways to spend quality time in nature. 
Herzegovina is a region of rivers. Tens of them flow through the countryside. Crystal clear and fresh, they are perfect places for swimming, meditating, having fun with friends and enjoying coastal barbecues. Only in Herzegovina you can swim under the majestic waterfalls and enjoy undisturbed nature around you and the ever-blue sky above. 
Herzegovina rivers also offer a wide array of options for adventure sports like white water rafting, kayaking and canoeing. 
The biggest river in Herzegovina is the emerald green Neretva that goes through Mostar with the UNESCO protected Old Bridge, arched above it in the centre of the city. In the west of Herzegovina, the river Trebižat is famous for its breath-taking waterfalls and popular river beaches.   
There are many beautiful sights to enjoy different Herzegovina rivers.All towns or villages with a river in Herzegovina haveswimming and fishing spots and river beaches. Too many to mention all of them.
We made a little selection of some of the most popular river beaches and waterfalls in Herzegovina that are very close to one another and easily reachable from Mostar.
Calm, warm, and dreamy, the Adriatic sea – the northmost arm of the Mediterranean Sea,awaits you within a short 80-minute drive from Mostar. Perfect for swimming, enjoying beautiful beaches and seaside adventures, as well as fantastic food, the coastal town of Neum is a place to go for leisurely afternoons and weekends. 
The karst environment of Herzegovina has numerous caves. In some of the bigger ones you can find pre-historic drawings, stalactites and stalagmites as well as diverse and mysterious flora and fauna. Here is the overview of some of the Herzegovina caves that are worth a visit. 
(82 km from Mostar, 1hr and 21 min drive) is the largest cave in Bosnia and Herzegovina. A monument of nature with spacious corridors and halls, as well as cave lakes, waterfalls, streams and over 7 kilometers of underground canals. Vjetrenica also has a micro climate phenomenon – a strong cold wind flows out of the cave at the entrance. Drawings older than 10,000 years as well as remains of bears and leopards were found in Vjetrenica. A part of this cave is illuminated and available for tourist visits. Show me location.
(61 km from Mostar, 1 hr and 5 min drive) is one of the oldest caves in Europe with the river Tihaljina spring situated right underneath. This illuminated cave has spacious cascades and halls that lead deeper down into the specific ambiance of Ravlića cave. Show me location.
(14 km from Mostar, 19 min drive) is a majestic cliff, the biggest river spring in South Europe, a dervish house and a mystic water cave. All those are a part of the Blagaj experience. The only way in the cave is by water. Because of the strong currents, preferably with a guide. Show me location.